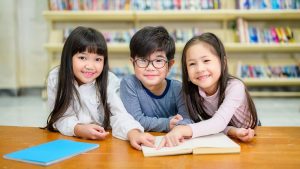 Game-based application aims to transform students' lives through early detection of literacy challenges.
BOSTON, Nov. 17, 2022 – EarlyBird Education, developer of a game-based early literacy assessment, today announced that it has closed $3 million in funding led by MassMutual through the MM Catalyst Fund (MMCF). Existing investors Lobby Capital and Amplify Capital also participated in the round.
Developed and scientifically validated at Boston Children's Hospital in partnership with faculty at the Florida Center for Reading Research, EarlyBird helps educators and families identify and support children at risk for dyslexia and other reading difficulties — even before they learn to read, and in the window when the brain can be re-wired for reading success. Through a cloud-based technology platform, EarlyBird incorporates a comprehensive screening assessment, customized action plans, and evidence-based "Next Step" resources.
In less than two years on the market, EarlyBird has seen incredible traction. Its platform is being utilized in 20 states across the country and in Massachusetts, the company's home state,10 percent of schools are using EarlyBird. And most recently, EarlyBird became available to families.
"As the mother of a child with dyslexia, I know that there is nothing like this on the market and parents are desperate for help," said Carla E. Small, CEO and Co-Founder of EarlyBird Education. "I have experienced the challenges of getting my child diagnosed and the confusion of identifying the resources he needed to become a successful reader. With this new funding, I'm excited to bring EarlyBird's fun and engaging game to more children nationwide."
"Through its innovative and engaging platform, EarlyBird Education is taking a preventative and proactive approach to help educators and parents identify and support children at risk of reading challenges," said Jason Allen, Portfolio Manager of Impact Investments at MassMutual. "We're confident in EarlyBird's leadership team and look forward to supporting the company with catalytic capital and resources as it continues to grow and change the learning trajectory of children nationwide."
"I'm honored to be an investor in this important company," said David Hornik of Lobby Capital. "Not only is EarlyBird able to help the one in five children experiencing reading challenges, but it is proof positive that a business can do well by doing good – EarlyBird is addressing a multi-billion dollar market opportunity and is now well-positioned to take advantage of their early lead."
Kathryn Wortsman from Amplify Capital shares the excitement: "EarlyBird's platform has the opportunity to change the trajectory of millions of children who are often missed or undiagnosed with literacy challenges at a young age. The ability to catch these children early and set them on the right path provides a significant education and life impact for students, families and the community."
About EarlyBird Education
Launched in 2020, EarlyBird helps educators, parents and physicians identify and support children at risk for dyslexia and other reading difficulties — even before they learn to read. EarlyBird's cloud-based technology platform incorporates a comprehensive, all-in-one screening assessment, customized action plans, and targeted evidence-based, curricular-agnostic instructional tools and resources for teachers and families. For more information, visit https://earlybirdeducation.com/.
About MM Catalyst Fund
MM Catalyst Fund LLC (MMCF) is a $50 million investment commitment by Massachusetts Mutual Life Insurance Company (MassMutual). The fund makes direct investments in Black-led businesses based in Massachusetts as well as businesses based outside Boston to fuel innovation across the Commonwealth. For more information, visit www.massmutual.com/catalyst.