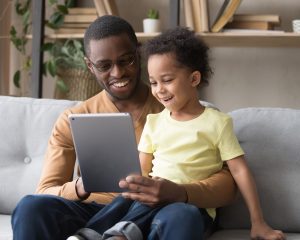 BOSTON – EarlyBird Education, developer of a game-based early literacy assessment, has raised $1.5 million in seed funding. Investors include Amplify Capital, Flare Capital Partners, and the Massachusetts Institute of Technology (MIT) Solve Innovation Future. The funding will be used to support the commercial launch of EarlyBird in fall 2021, and continued product enhancement.
Developed and scientifically validated at Boston Children's Hospital in partnership with faculty at the Florida Center for Reading Research, EarlyBird helps educators identify and support children at risk for dyslexia and other reading difficulties — even before they learn to read. It does this through a cloud-based technology platform that incorporates a comprehensive screening assessment, customized action plans, and evidence-based intervention resources for teachers.
"Our mission is to build transformational companies that will profoundly impact healthcare"
"Despite an intense focus on reading for decades in U.S. schools, identification and intervention for struggling readers often comes too late, resulting in negative academic, social-emotional, and societal impacts," said Carla Small, co-founder and CEO of EarlyBird Education. "Our funding partners come from the worlds of education, health, and technology, and are keenly interested in transforming the way educators, parents, and physicians identify and support children at risk for reading difficulties."
The current round of funding follows a successful round that raised $1.0 million to support the development of the screening assessment platform at Boston Children's Hospital, and a two-year validation study. This included philanthropic funding from the Heckscher Foundation for Children, Oak Foundation, Poses Family Foundation, Peter and Elizabeth C. Tower Foundation, and Emily Hall Tremaine Foundation.
"EarlyBird has a strong leadership team and science foundation, and is addressing a critically important, unmet need," said Casey van der Stricht, Principal, Solve Innovation Future. "We are thrilled to support EarlyBird and believe they have the potential for tremendous impact in the U.S. and around the globe."
"Our mission is to build transformational companies that will profoundly impact healthcare," said Michael Greeley, general partner of Flare Capital Partners. "With its deep research base, EarlyBird presents a significant opportunity to impact the learning trajectory and social-emotional health of millions of children."
About EarlyBird
EarlyBird transforms students' lives through the early detection of literacy challenges, including dyslexia. With just minutes of self-administered game play, the cloud-based technology platform can identify students who are at risk of struggling with reading and point educators to the right interventions.