FAIRFIELD, Conn.—Cassidy Lombardo and Cassidy MacNamara are upholding the standard of a Sacred Heart University Pioneer with their spring semester internships. The two seniors in SHU's Isabelle Farrington College of Education & Human Development(FCEHD) are screening Bridgeport children for signs of dyslexia so that early interventions can be put in place if needed.
Lombardo and MacNamara are working under the instruction of Katie Cunningham, associate professor of teacher education, in collaboration with The Southport School, which has garnered international attention for its success with students who have language-based learning differences.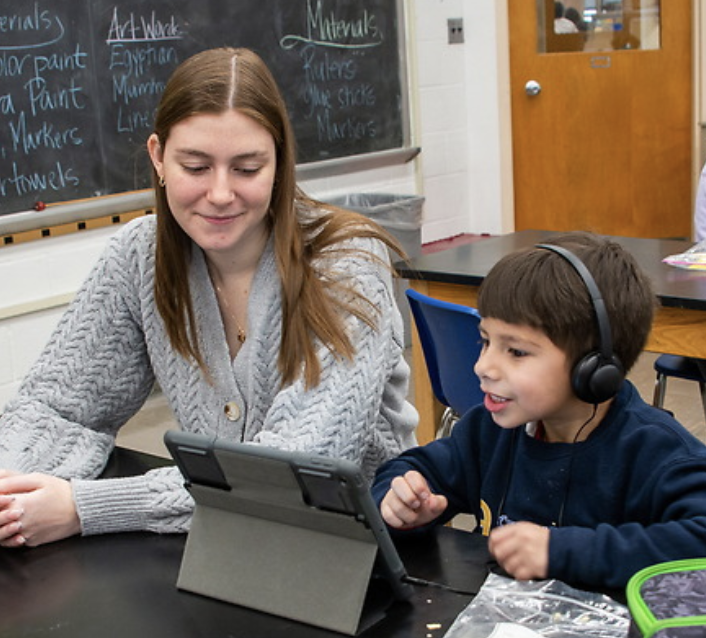 The screenings rely on a game-based platform called EarlyBird, which is designed to identify children at risk for dyslexia and other reading difficulties early in their education, when interventions are most successful.
"Both students dedicated part of their winter break to understanding how to use the EarlyBird screener, and they have gone far above and beyond their clinical hours to conduct one-on-one screenings with children," said Cunningham. "Their efforts will help catch readers before they fall behind, and they will have an immeasurable impact on the learning trajectory of many children."
Lombardo and MacNamara oversee the tests and then share results with the schoolteachers, who can offer interventions and tailor lessons to their students' needs. "Some of the responsibilities I have include creating a safe and comfortable environment for students outside their normal day-to-day routine to take the test, making sure they stay on track with the dyslexia program and encouraging them to work through the games," said Lombardo, adding that she offers extra instruction if a student needs it.
MacNamara, a STEM (science, technology, engineering and mathematics) elementary education major, and Lombardo, an interdisciplinary studies major with a concentration in English and dance, said they owe a great deal to SHU. "Through this experience, I have taken what I've learned in the classroom at Sacred Heart and applied it to a new classroom. I'm so excited to help make a difference," said MacNamara.
Both students chose the internships to prepare for their future careers as teachers. "It is very exciting to me because, as someone who plans to work with students who have special needs, I want to see how testing is conducted in the field, as well as what targeted skills are examined. I also feel grateful to see where students in specific grade levels are in terms of their learning, and what type of instruction can be provided as the next steps to increase achievement," said Lombardo.
Michael Alfano, FCEHD dean, praised MacNamara and Lombardo for the meaningful steps they are taking to promote education. "These two students are true Pioneers," he said. "The 'Cassidys' are doing amazing, innovative and incredible work to make a difference in Bridgeport schools."
About Sacred Heart University
As the second-largest independent Catholic university in New England, and one of the fastest-growing private doctoral institutions in the U.S., Sacred Heart University is a national leader in shaping higher education for the 21st century. SHU offers nearly 90 undergraduate, graduate, doctoral and certificate programs on its Fairfield, Conn., campus. Sacred Heart also has a campus in Dingle, Ireland, and offers online programs. More than 10,000 students attend the University's nine colleges and schools: Arts & Sciences; Communication, Media & the Arts; Social Work; Computer Science & Engineering; Health Professions; the Isabelle Farrington College of Education & Human Development; the Jack Welch College of Business & Technology; the Dr. Susan L. Davis, R.N., & Richard J. Henley College of Nursing; and St. Vincent's College. Sacred Heart stands out from other Catholic institutions as it was established and led by laity. The contemporary Catholic university is rooted in the rich Catholic intellectual tradition and the liberal arts, and at the same time cultivates students to be forward thinkers who enact change—in their own lives, professions and in their communities. The Princeton Review includes SHU in its Best 388 Colleges–2023 Edition, and Best Business Schools–2023 Edition. Sacred Heart is home to the award-winning, NPR-affiliated radio station, WSHU, a Division I athletics program and an impressive performing arts program that includes choir, band, dance and theatre. www.sacredheart.edu
This story was originally authored by Kim Swartz and posted on www.news.hamlethub.com.